You are here :
Pattaya Hotels
→ Royal Cliff Beach Hotel
Rating:

Royal Cliff Beach Hotel Pattaya
Check Rates & Availability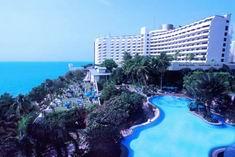 Royal Cliff Beach Hotel Info
The Royal Cliff Beach Hotel is set is a 64 acre, private tropical estate overlookin the Gulf of Siam. The hotel offers a wide range of rooms and suites to suit all budgets, with access to all the benefits and faciltiies of a luxury resort. For the business traveler, the hotel provides ballroom and meeting rooms, and also the Pattaya Exhibition and Convention Hall(PEACH), which is a multipurpose convention and exhibition hall with a capacity of around 5,000 people. Guests can enjoy fine dining at the Panorama Restaurant, which serves an assortment of international cuisine around the clock, or at the Grill Room & Wine Cellar. Guests can enjoy live music at both the Lobby Bar and the Piano Bar, which are ideal places to relax, unwind, and enjoy exotic drinks. Facilities at the hotel include, helipads, childrens' pool, seven tennis courts, two squash courts, fitness center, Royal Cliff School of Thai Culinary Arts, and the Cliff Spa.
Royal Cliff Beach Hotel Location
Hotel Address: 353 Phra Tamnuk Road
Room Amenities

Hotel Facilities

Airport Pick-Up And Drop-Off

Sports and Recreation
Royal Cliff Beach Hotel Photos